Google My Business Photos: What You Need to Know About Cover Photos, 360 Photos, and More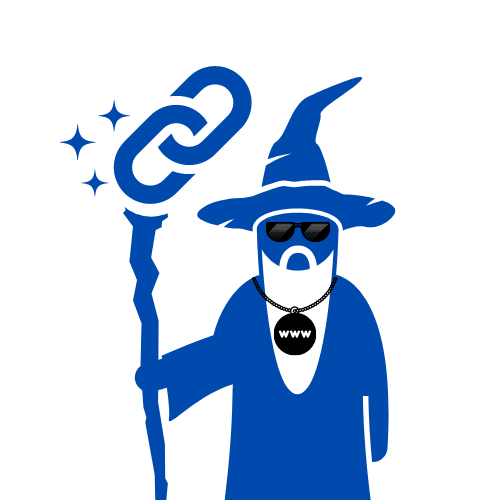 By ISAAC ROBINSON
The Wize Wizard of the Web
Photos are one of the most powerful elements of Google My Business. Not only do they build consumer confidence and give you a chance to showcase your business, you can also leverage them to make your listing more findable in local search results.
The GMB platform is formatted with several different categories of photos you can upload.
Types of Google My Business Photos
In the "Photos" section of your GMB (accessible from the left side menu), there are 9 types of photos listed across the top.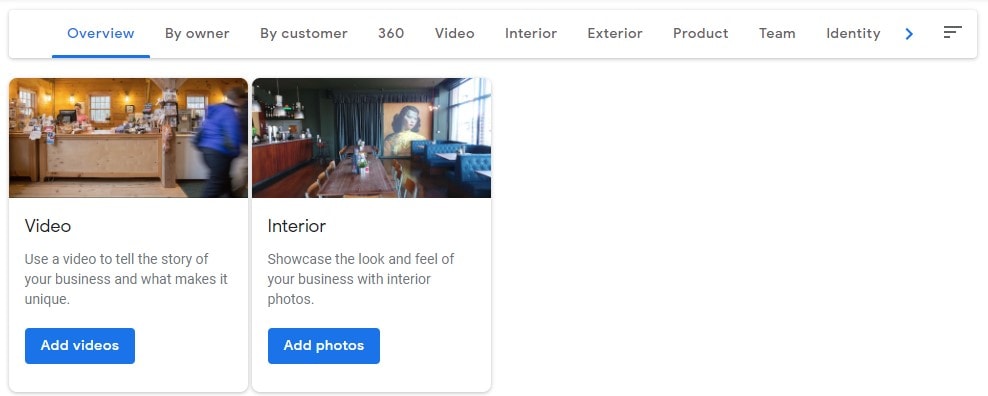 We'll talk more about them below, but here is a quick summary:
Overview shows all of the photos in your business listing regardless of type. This is a helpful place to see how many views all of your photos have and how old they are at a glance.
By Owner photos are all the photos that you have uploaded to your GMB profile.
By Customer images are photos that other Google users have uploaded to your listing in their reviews.
360 photos are interactive images that allow users to see the entire view of a place.
Video is what it seems–videos visible on your GMB listing.
Interior pictures are from inside your physical business, which may not apply to everyone.
Exterior photos show your storefront or building. Again, not all businesses need this type of photo in their listing.
Product images show what your business is selling, including menu items and service offerings.
Team photos highlight your employees and staff.
Identity photos are your branding images, such as cover images and logos.
Generally, owner photos will be almost all of the photos in your listing. Viewing them in a separate category isn't super important unless you have a high volume of customer photos being added that you need to keep apart from images you've taken/designed/uploaded so that you can track your marketing efforts.
Customer photos are added as part of reviews. These pictures are visible to people who view your GMB profile on Google Maps or in search results.
Reviewing Customer Photos
Viewers see photos added by other customers as unbiased, even though they rarely are. You should check your customer photos frequently and, when necessary, add your own photos to set the record straight if things are portrayed inaccurately.
How to Remove Customer Photos
Find the photo you want to remove from your GMB listing.
Click on the flag icon in the top right corner.
Select why the photo should be removed or click "Other" to explain.
Click "Report" to send the photo to Google for review.
Check back after a few days to see if the photo was removed. If not, report it again or contact Google support.
360 Photos are a great way to show your customers and users what your business looks like from all angles.
If you don't have a 360-degree camera, the best way to take a 360 photo for your listing is to download the Google Street View app. The app allows you to take a 360 photo with your phone camera, which you can then save and upload in your Google My Business account.
Videos for Google My Business
Videos are a great way to optimize your GMB profile and stand out from the competition. Videos are more expensive and time-consuming to make, so it's important to maximize their effect. Make sure your videos are appealing and tailored to your target audience.
Some tips for producing professional and visually appealing videos for your GMB are:
Use a high-quality microphone & recording device!
Make sure you have good lighting
Write your script ahead of time & keep to it
Keep it short (longer videos are harder to make and upload & customers are less likely to watch them)
Interior & Exterior Photos
Interior and exterior pictures show what your business looks like, and help customers get a sense of the environment before they visit you. Take these pictures with good lighting and when your business isn't super busy so customers can see your layout and storefront.
Exterior pictures can also help customers find your business once they arrive if they are on foot or it's not easy to locate.
Product photos are a bit different from the other types. To add a product to your Google My Business listing, you'll need to upload a photo and name the existing product listing you want to attach it to or create a new product.

Product photos can help promote your business online by showing off the specific products you offer, targeting a wider variety of searches related to your business.
Your business' team and identity photos are an opportunity to help your listing stand out to customers and Google. Search engines constantly check for signals that your business is trustworthy. Photos of your team show them that there are real people who work at and manage your business.
Your identity photos include things like your cover image, logos, and other branded images. These images are important to help maintain a consistent online persona for your business.

How to create a great GMB cover photo
Your GMB cover photo needs to have an aspect ratio of 16:9, or 1024 x 576 pixels. Make sure your business name features prominently, has high contrast, and is easily readable. Keep your branding consistent with your other platforms, such as your website and social media.
Google My Business cover photo examples
Here are some of the cover photos we've created for some of our local clients:
How to Add Photos to Your GMB Listing
You can upload photos via the GMB Dashboard, through the menu on the left hand side of the page. If you are uploading photos from the GMB app on your phone, you can simply use photos from your phone's camera.
To add photos to your GMB listing, sign in and open the location you'd like to manage.
Navigate to the "Photos" tab with the left-hand menu.
Choose the type of photo you'd like to add (for example, Interior) and click Add (blue plus button in the top right corner).
Upload the photo from your computer.
What is the best image size for Google My Business photos?
The best image size for Google My Business is at least 720 x 720 px, but it depends on the resolution. To optimize your images for GMB, you need to use a resolution of at least 300 pixels per inch. Images should be high-quality, clear, and large enough to see well.
The minimum image size for GMB is 250 x 250 px.
Which image file types does GMB support?
GMB supports all image file types that are supported by your web host, such as .png and .jpg . Google recommends adding at least three of each image file type to your Google My Business listing.
Photos with a lot of text or line graphics (like your logo) should be in PNG format, while photos with people should be in JPG format.
How to optimize image info for GMB rankings
To optimize your Google My Business photos for SEO, set your photo titles and alt text BEFORE uploading. For instance, change images from "IMG_4762" to "Metal fabrication equipment".
Alt text should describe what the pictures show to help search engines and users with voice readers, like "View of Black Piazza's Custom Branded Hoodie from Back". It's ok to use your business and product names, but don't stuff keywords here! It looks spammy to Google and can hurt your listing in results. Make sure your alt text is readable and understandable.
Location data is also important for local search rankings. Use a photography tool to add geotags to your images before you upload them (check out our walkthrough coming soon!).
Finally, images on Google My Business listings should be clear and of high quality. No one will click on an image that looks bad, which will limit its exposure.
How Often to Add Photos to GMB
You should add photos to GMB as often as you can, ideally a steady drip throughout the month. Weekly or monthly photo dumps are fine too, as long as you stick to a schedule that works for your business.
While consistency is more important than following an arbitrary schedule, adding photos less often than once a month can limit the exposure and impact of your GMB profile.
How to Delete Photos on Google My Business
To delete photos on Google My Business, go to the Photos tab in the left-hand column, click on the photo you want to remove, and click the trash bin icon in the upper right corner.
If you're trying to delete a customer photo that is fake or violates Google My Business guidelines, you can flag it for removal.
Use square aspect ratio for photos to easily repurpose across multiple platforms.
Use PNGs for photos with a lot of text or line graphics (e.g. your logo).
Make sure to name your photos before uploading them – this helps Google understand what your photos and business are all about.
Struggling with your Google Business profile?