RunLocal Marketing's Web Design Services Are Different
TL;DR: We build websites that get you customers by ranking you high in search engine results and maps results.
1. Website Design with SEO Search Engine Optimization Built In
Do you have a website that's just sitting there gathering dust? That not enough potential customers see? That search engines don't seem to know about?
You might have put a lot of thought and care into how your website design looks, your logo, and the marketing copywriting on it.
Search Engines ignore website colors and logo visuals
The surprising thing is that Google's robot crawlers have NO idea what your website looks like. Google literally doesn't care. It's not uncommon for your beautiful design to turn the search bots away and prevent your site from ranking higher.
So you can spend money all day long on making your site beautiful but if you don't "do SEO" (search engine optimization), then that website design might not really be doing much to put you on Google Maps OR get in front of your customers.
Is your website DOING anything for you?
If you've had a website designed for your business in the past but it didn't DO what you thought it would to bring you new customers this is usually why. You get a lovely looking site but Google ignored that aspect completely and doesn't know where your business is located and what searches to rank you for because you didn't tell its robots that information.
Results from a RunLocal client: Give Google what it wants and you WILL rank higher

To improve your website ranking, it is important to implement SEO strategies such as keyword research, content optimization, and link building. It is also crucial to stay up-to-date with SEO best practices as search engine algorithms are constantly changing. By working with a reputable website design and SEO company, you can ensure that your website is optimized for search engines and is effectively driving traffic and leads to your business.
DIY website design is hard, but you're not alone when you work with RunLocal Marketing
If this sounds like a lot, it is. But that's ok! RunLocal Marketing is a website design agency in Longmont, Colorado that will take care of the complicated stuff so you can focus on taking care of your customers and your business.
The first thing we do when you call or text us is assess your niche, see which of your competitors are already ranking, and figure out what it'll take to literally put you on the map. It's our favorite thing to do!
2. Your Website Can Directly Increase your Google Maps Ranking
It might also surprise you to learn that optimizing your website content and structure can significantly improve your Google Maps ranking. You might assume that they are separate, but that's not how Google "thinks". If you want to improve your Maps ranking, your website SEO is an important part of the strategy for local businesses.
For example, Longmont, Colorado, where RunLocal Marketing is located, has a population of 94,445 people (per the 2019 report from the United States Census Bureau). It's very doable to rank locally here and in the surrounding communities like Boulder, Frederick, Firestone, and Loveland. It's not rocket science but it takes time, patience, and skill. And it takes optimizing BOTH your website and your maps listing.
3. Where Your Business is Located Matters for SEO Search Rankings
One factor that affects both Maps and organic rankings is the use of relevant keywords and location information throughout your website. Google will change the results it gives based on the distance between where the searcher is located and where the business is located.
Where are you? The search engines might have no idea
This is why if you don't let Google know where your business is in a way it can understand, you won't be ranked higher than businesses who have.
This means including your business name, address, and phone number (NAP) on every page, as well as using keywords that describe your business and location in the content and meta descriptions.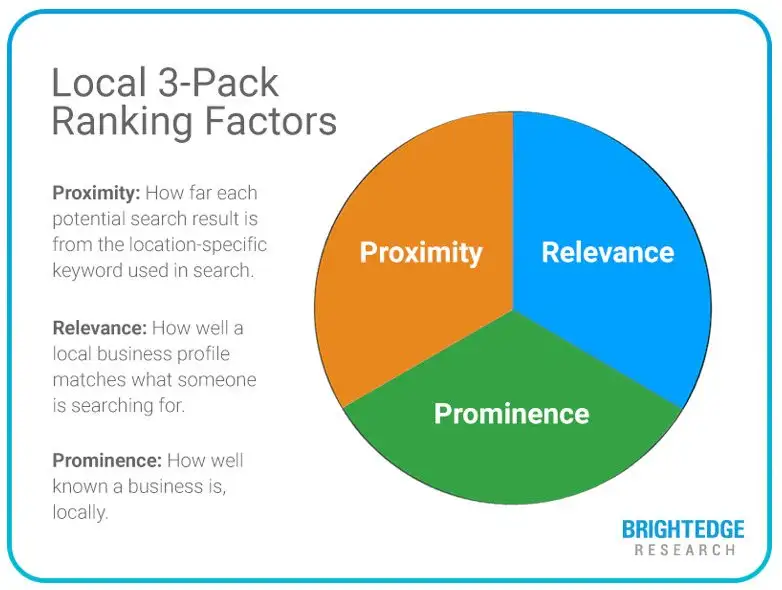 Your customers are using their phones to search for you
Another critical aspect of website optimization is ensuring that your website is mobile-friendly. With the increasing use of mobile devices for searching and browsing, Google prioritizes mobile-friendly websites in its search results. This includes having a responsive design that adjusts to different screen sizes and load times that are optimized for mobile devices.
Your website design can work for you and with you
Effective website design is crucial for businesses to generate more leads and convert them into loyal customers. A well-designed website can attract potential customers and keep them engaged with your brand. For instance, if your website is on cheap hosting and is slow to load or difficult to navigate, visitors may leave and never return.
Be Fast, Be smart
On the other hand, a website that is user-friendly, visually appealing, and informative can help build trust and credibility with your audience.
By optimizing your website content and structure, you can improve your Google Maps ranking and increase your visibility to potential customers. This can lead to more traffic and conversions for your business. So make sure to focus on including relevant keywords and location information and ensuring your website is on FAST hosting and is mobile-friendly to reap the benefits of local SEO. We'll help you!
You'll probably need updates to your website if you want to rank higher and get customers
Usually you'll need to add some specific pages to your site and make some adjustments to your site navigation. Some of these pages are standard and all sites need them, but many are specific to your niche and competitors.
If you work with RunLocal Marketing, we'll help you let Google know that you're the best in your niche and establish geographical relevance so Google knows where you are. Then they WILL reward you. They will think YOU are the answer to searches in your area in your niche.
Case Study: local business lawyer has worked with RunLocal for 4 months. We redesigned the website, fixed technical issues, added fast hosting, and careful strategy.

In the case study pictured above, after 4 months of working with RunLocal SEO, a local attorney is getting rewarded with a nice upward trend in improved rankings. They used to run local service ads, but the number of paying clients resulting from their website and Google Maps has increased so much already that they were able to stop running those ads.
How RunLocal SEO helped our client rank higher and get more clients
Here is a list of some things RunLocal Marketing did to achieve significant ranking boost for a local attorney:
Digital marketing strategy: we analyzed the niche and competitors and made a detailed strategy plan
Fast hosting: we made sure the site is above 90% score for website loading speed
Mobile indexing and technical issues: we found issues in the way the previous site was built and fixed them
Website Redesign: we redesigned the site on WordPress and used very fast code in the website development
Location signals: we added location signals that search engines need to be able to list our client in local searches
Search Stars: we "told" the search engines about the client's reviews and now they show yellow review stars next to all the search listings, something no competitors have done
User behavior signals: we're using our own AI to train the search engine's AI to "think" that our client is the best result for humans
Results from RunLocal's strategy, website design, search engine optimization, and hosting: money made and money saved
The leads our client gets from their website and maps rankings are much better qualified to be paying clients than those who called from local services ads. RunLocal analyzed their competition, found issues with their website structure, added geographical "signals" for the robots, and made a detailed strategy for the next year's work that involves building out new content to establish credibility in their niche so Google knows to send searchers to our client.
4. When the Phone Rings, Answer it (with Personalized Automation)
Let's talk for a minute about what happens when someone finds your website or your Maps listing and contacts you. Responding to inquiries within the first 5 minutes is ideal.
Here are some startling stats:
78% of customers buy from the business that responds first
27% of leads don't get contacted at all
47 hours is the average response time (don't be this business)
82% of consumers expect responses within 10 minutes
90% of leads have no activity after 30 days
If you're a small business, this can be a challenge. It's best to automate a response and forward website inquires directly to a phone and not use email. If you're a home services business, your website can be sending you regular texts and phone calls…a lead pipeline. This can lead to more sales, referrals, and repeat business.
We'll help you USE the inquires/leads from your website and turn them into customers
RunLocal will work with you on what's called "conversion optimization," which just means that our sites are "smart" sites that send you texts, auto-respond with a personal message, and help you build your customer list so you can turn leads into paying customers.
Our Longmont Website design experts have a track record of getting clients on the first page of Google, which can significantly increase your online visibility and attract more leads. By leveraging the power of personalized responses and automating your customer service, you can quickly respond to leads and keep them engaged with your brand. With a strong, integrated strategy that combines website design, SEO, and other elements of internet marketing, businesses can achieve long-term success and growth.
5. A website that is tailored to the needs of the business will increase conversion rates
In today's digital age, having a website is essential for any business to succeed. However, simply having a website is not enough. To truly maximize customer conversions, a website must be tailored to the needs both the search engine crawlers and robots AND the business.
It's not rocket science, it just takes commitment, time, and skill. Together with RunLocal, you've got this!
This means designing a website that is intuitive, visually appealing, and showcases the brand in the best light. Additionally, the website must be built on a solid foundation, including proper hosting and search optimization. By taking these steps, a business can increase its conversion rates and stand out from the competition.
In short, a well-designed website is not just a luxury, it is a necessity for any business looking to succeed, especially in local markets.